SEQUENCES (AUSTRALIA)
Oh yes, it's Mick "Dundee" Garlick these days, having escaped the dour weather of Wiltshire for the sun-drenched (you just know we're not heading for the Firth Of Tay now, don't you?) city of Brisbane. Sequences, whilst not having been a printed magazine for a while now, which it was back over 20 years ago when Mick and I first met, remains very much a going concern. This is just an opportunity to say thank you for letting me post "The Electric Age Cometh" on their Facebook group page, it's always good to be able to put your work to a different audience, so very much appreciated. The mainstay of Sequences nowadays are the regular podcasts, still one of the best ways of exploring the universe of electronic music, from the traditional old school of Schulze and Tangerine Dream, right through to the modern trance ambient (not the more commercially edged DJ's and techno though, that stuff gets more than adequate coverage elsewhere), and always on the lookout for new sounds. Also now getting a run out on the German Modul 303 station, the wonderful world of real electronic music is at your fingertips. Enjoy muchly and say hi from us...
SEQUENCES - OFFICIAL WEBSITE FACEBOOK GROUP
SOUNDCLOUD MIXCLOUD iTUNES MP3 FREEX MODUL 303
---

TUDNO FM 107.8 - NEIL CRUD (WALES)
Yes, the front man from yet another of M&E's finest bands, Sons Of Selina, also gets behind the microphone of a radioshow host these days! You'll find our Cruddy punking up the airwaves around the Llandudno area of North Wales (I think I've probably done the 'suburb of Liverpool' joke once or twice already) on a Monday night at 22:00 till midnight, courtesy of his probation officer, or streamed via the Tune In app, courtesy of the internet, available in almost every country of the world (and shame on the control freak governments of the rest). Oh, and there's also an archive of Neil's shows on his Link 2 Wales website. Our thanks for giving "The Electric Age Cometh" an airing, especially considering we're hardly usual fayre for the show, we'll try to put together something with more of a punk edge for future broadcast, promise. Pretty promise with little pink ribbons. Hang on, that's not quite right, is it?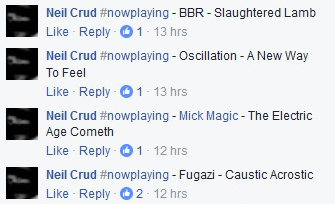 Neil Crud #now playing - spot the odd one out...

SPACE & PSYCHEDELIC ROCK (ENGLAND)
Thanks also go out to Kev Ellis, former front man of the mighty Doctor Brown, for airing "The Electric Age Cometh" on his radioshow. As Kev's own musical output over the years may indicate, you're going to get a lot of great music on any show he does with a name like "Space & Psychedelic Rock", some of which you'll have heard of, some of which you'll be happy to discover. Sundays at 21:00 (UK time, which is currently UTC +1) is the time to tune in via Tune In (see what I did there?), or check out Kev's Mixcloud for streaming from the following Monday. And, as it's our 25th anniversary, worth pointing out that one of M&E's finest releases is available for streaming or free download on Kev's Magic Cat Archive on Soundcloud. Tune in, turn on and, well, you know the rest...
DOCTOR BROWN - "LIVE AT HEBDEN BRIDGE" (M&E 292)
---

STARSHIP OVERFLOW
(EARTH ORBIT)
With apologies to the rest, time to switch my attention now to the greatest radio station in the known universe, where simply hours of pure psychedelic and rock joy beam down from that great orbiting starship, courtesy of Captain Garry Lee. Recently celebrating their 30th anniversary too, they had one mega blowout weekend, bombarding the ears of Earthlets everywhere with some of their favourite sounds from those three decades, my thanks to the skipper for including some MMATT tunes amongst that lot. Nice man. I believe we've been getting some spins on the archive shows too recently, which is probably appropriate, us having only done two new tracks in the last 20 years. Moving on. Your mind can be blown on River Gibbs, Radio Seagull and more, you'll find full details on the Overflow website. Oh, and let me just quash these vicious rumours once and for all; Garry does NOT only keep playing our stuff because I've threatened to re-release "Mmattland Community Radio FM" otherwise!
STARSHIP OVERFLOW - OFFICIAL WEBSITE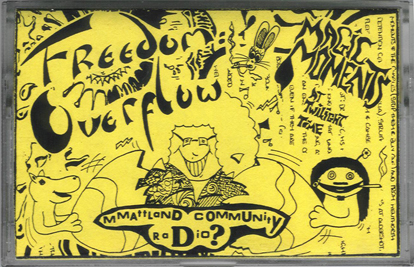 Mmattland Community Radio FM - You'll believe a DJ was off his tits...