THE DEPROGRAMMING CENTER (U.S.A.)
My thanks to Charles Rice Goff III for airing the two "Down The Rabbit Hole" MMATT tracks on his radioshow back in December, only just missing the previous issue, always cool to be on a playlist with such old school tape scene luminaries as the great Ken Clinger. You'll find the show on KOWS at 107.3 FM in the Occidental/Sebastopol area of California, and thanks to the wonders of the internet, almost everywhere else (get with the programme, Kim Jong-un!) via streaming on their website. CRG3 (short version) was a member of Herd Of The Ether Space, used to do a radioshow called Lo Finest (there's an archive of shows on the Aural Innovations website) and also runs the Taped Rugs label. In his spare time... just kidding! Say hi from us.
THE DEPROGRAMMING CENTER TAPED RUGS PRODUCTIONS
AURAL INNOVATIONS (LO FINEST RADIOSHOW ARCHIVE) KOWS 107.3
---

KLAPPSTUHL RECORDS (GERMANY)
Our favourite record label in the whole world, probably not least because Carsten S and crew were kind enough to release a double album 'best of' MMATT called "Flashbax Ω Ultimate" in 2015, but also because they put out some absolute gems. That noble icon of underground life, the synthesizer, is pretty much at the heart of all their output, but in great varieties of usage; from the industrialism of the electro-experimental, through the dark elektroid gothica of Solanaceae Tau to our own brand of feminised electro spacepunk. Always worth a look, trust me, etc etc. There are hard copy versions available of most releases, just scan down their Bandcamp page a bit and look for the 'Contact' link to request details.
---

RADIO ESCOBAR (GERMANY)
The mighty Carsten Olbrich, aka Herr Ebu, and his monthly radioshow on Radio X at 91.8 in Frankfurt, Germany, and into the electronic ether beyond, via the wonders of ye olde information superhighway. We even got to add to the festive spirit of his Christmas show with his playing an extract from "Xmas With Jody", I bet Santa nearly dropped his sack. But it was the March show I actually wanted to thank him for, where he aired the two new tracks, "Variations (On A Theme By Peppa Pig)" and "The Electric Age Cometh". Nice man. A seriously good underground show, plenty of new sounds to discover, as well as a few names that would be familiar to fans of Music & Elsewhere, such as; Doc Wör Mirran, L.H.D. (been featured on the M&E Showcase), Into The Abyss, AMROL (whose Markus Detmer went on to form one of my favourite electronic music bands, Klangwart) and No Comment. Carsten runs one of the best known underground labels on the planet in Ebus Music and still makes quite a lot of noise himself. Very worth a listen and very worth making contact with, pass on a humble bow from us...
EBUS MUSIC - OFFICIAL WEBSITE RADIO X

DIGITAL DIZZY (ENGLAND)
Great to see a new MMATT track on a compilation again for the first time in a couple of decades, so many thanks to Gary Waterworth (better known as the man behind the Dizzy Positivity label back in the day) for making that happen for us. This is a download only collection of 23 tracks, running well in excess of two hours, with a leaning towards electro-ambience if our "The Electric Age Cometh" and the inclusion of the mighty Cousin Silas (aka Dave Hughes, the man who used to do the Modern Dance zine) is anything to go by (I have bought a copy, but I'm buggered if I've found the time to put my feet up and listen properly as yet). Available for a minimum of £3, but it's for a good cause (The Langdale Merzbarn art installation in Cumbria), so do add a bit on if you can. Plenty more going on with this excellent digital label too, very worth the contact and such a decent guy to boot; "Thanks for your support, Mick, and the wonderful track! It felt really nice to release a MMATT tune, it connects lovely back to the tape label." The pleasure is all mine, Gary...
FACEBOOK PAGE MERZFUNDER PLUS ON BANDCAMP
---

NO PIGEONHOLES (U.S.A.)
Another worthy claimant to the name of Mr. Underground would be our old friend, Don Campau. An absolute heavyweight who's been recording forever, ran the Lonely Whistle Music label, handled KFR Distribution in the States for a while, does the No Pigeonholes radioshow and still has time for a family life. Lucky man too, married to the the immensely talented singer, Robin O'Brien. This is another act of supporting the cause that just missed the last issue (bloody deadlines!), but there ya go. No more annoying than page pixies. And their day passed. There is hope. Don played our "Variations (On A Theme By Peppa Pig)" on the U.S. version of his show (KKUP - 91.5 FM, Cupertino, California, there's also an experimental edition broadcast on KOWS) right at the end of last November, then aired "Blitzkrieg!" (from "Flashbax Ω Ultimate", see left) on the European version (Radio Marabu - 104.8 FM, Osnabrück, Germany) in December. Nice man. And, of course, the joys of the World Wide Web and archiving and streaming mean you can get a listen to these wonderfully eclectic shows just about everywhere (bring down the great firewall, Xi Jinping!), enjoy muchly on the links (and don't miss out on Don's Living Archive Of Underground Music, it's a veritable museum of all things subterranean)...
DON CAMPAU - OFFICIAL WEBSITE KKUP 91.5
RADIO MARABU 104.8 RADIO ON BERLIN
THE MAGIC NET INTERVIEW WITH DON CAMPAU - APRIL 2014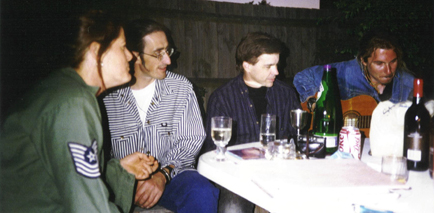 Robin (left), Don (2nd from right) and friends in Frimley, Fall 1996...