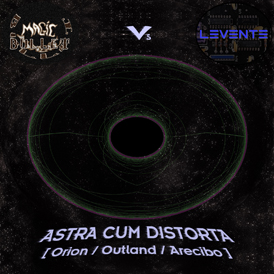 06 - "Astra Cum Distorta (Orion / Outland / Arecibo)" - Magic Bullet vs Levente

From the first artist to have a release on M&E to the last, Levente, whose "Turning Pages" (M&E 596) was in our final batch of releases in May 2003. An ethnic Hungarian who fled Ceaușescu's Romania, which was very much their loss and our gain, he's an exceptionally talented electronic musician who I wish had found the label sooner, rather than during our final wane. It's at least gratifying that I was able to do something more for him second time around, including his work on our "United World Underground Collection" (M&E 25-01, 2017) and... this? Not sure it's me that's doing him the favour here! Recently, he's been talking much about giving it all up, and we've all been there, so I've been desperately trying to persuade him not to, maybe just more measure his output, find a better work-life balance. But, in case he were to throw in the towel, I didn't want to miss the opportunity of working with him first, having a particular idea on giving some of his spacier works the Magic Bullet treatment. The three pieces we agreed on were "Heart Of Orion" (from "Places", 2000), "Outland" (in memory of Carl Sagan, from "Explorers", 2014) and "Overhearing The Stars (Arecibo Observatory)" (from "Firmamentum", 2015). Then Skit and I set to work on selecting parts and samples from each to add our ideas to, finally putting the three together as a kind of 'star suite'. Rather graciously, he described our efforts as "hey this is cool", which from a man of such talent is praise indeed. Sadly, the Arecibo Observatory was decommissioned in 2020, but Levente is still there for now, writing an electronic music blog called Notes From A Nebula and, of course, there's always Bandcamp...

Blog - https://notesfromanebula.blogspot.com
Bandcamp - https://levente.bandcamp.com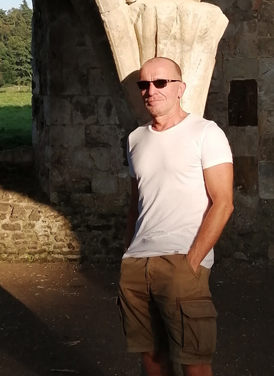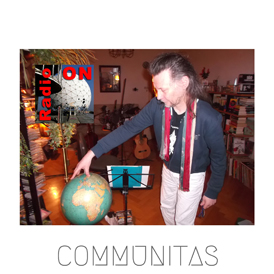 07 - "Unitas III"

"Then he disappeared, now he's back again. Yes, we're back in the world of the totally unconventional, this is a new release by Mick Magic, these days releasing as Magic Bullet."

For the link from Music & Elsewhere to Magic Bullet, a radio clip from Lord Litter, one of the cassette underground's greatest stalwarts, a good friend to us for over 30 years, and still going strong today. He makes music, does a couple of radioshows, does a website, and in his spare time...! Danke, mein Freund, tausendmal oder öfter.

Official Website - http://www.lordlitter.de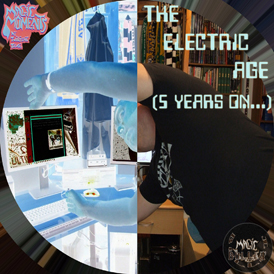 08 - "The Electric Age (5 Years On)" - Magic Bullet vs MMATT

After the 1996 release of "Creavolution" (MMATT CD1), Magic Moments At Twilight Time were effectively done and dusted, the future seemingly behind us. When M&E closed its doors in 2003, the band would be all but forgotten about for the next decade. But then in 2012, I started The Magic Net website, began to reconnect with old friends again, one of whom released the first digitised recordings of the band, in 2013, on a compilation called "Freedom Overflow" on his Rodent Tapes Backstage label, that was Gypsy. "Flashbax Ω Ultimate" (Klappstuhl Records, SP008), a best of the cassette years collection, followed in 2015. My enthusiasm rekindled, we decided on a 30th anniversary bash in October 2016, an online event called "Down The Rabbit Hole", including the first new MMATT tracks in 20 years. One of those, "Variations (On A Theme By Peppa Pig)", was not intended to be taken seriously and escapes any rework here due to the obvious copyright considerations. The theme tune to the event, however, most certainly was. It was called "The Electric Age Cometh", a 12½ minute solo piece recorded nostalgically on a 4-track TEAC cassette deck, specially for the occasion. Five years on, Skit and I have given it the Magic Bullet treatment, tightening it up, adding some oomph, and dragged it fighting and screaming into the digital age. Ladies and gentlemen, the future is yet to come...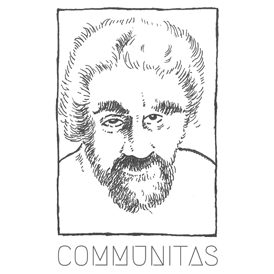 o9 - "We Say IFAR Compilations Very Good" - Magic Bullet

SHAUN ROBERT (Institute For Alien Research)
A veteran of experimental music, we had a tape by his former project, factor X, on M&E as far back as 1992! Shaun is the man who is directly responsible for the creation of the Magic Bullet, his call out for tracks based on animal noises for a musique concrète compilation was what inspired our beginning. He released our first ever recording, "god Eat god", on a compilation on 4th October 2019. Nice man.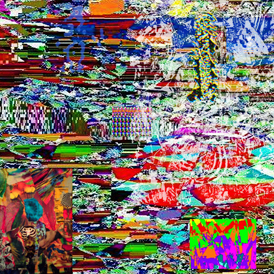 10 - "Côté Intéressant" - Shaun Robert

Shaun Robert has been working with sound from an early age [circa 1978], a natural extension of play. Starting like many with a domestic tape recorder; years finger poised on the pause button, making edits, skimming back with reverse to make collation transitions; building deep relationships with that aesthetic, within this interaction shows itself in all my works. And the importance of sounds from analogue radio can not be understated.
Cross talk & frequency drifting pulls my heart strings. And Heavy use of Cassette Tape in Structure, making my own compilations developed into making my own works. And relating to loops and rough editing, audio drop outs
A Sonic Organic

I have put together a programme of sounds, recordings I've made over the last ten years, an overview of my output, ideal for Radio airplay. I started working under the name Shaun Robert in 1994, after the demise of my factor X project. Sounds used are from recordings made by me, be they of objects treated as instrument or vice versa; this is soundart, Musique Concrète, noisemusic. Places are evoked, drama is set, conceptual music intone the mindscape

https://shaunrobert.bandcamp.com
---
► "Down The Rabbit Hole"
(The Magic Net Newszine, Winter 2016/17)