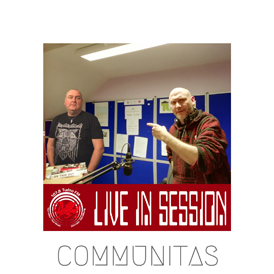 11 - "Unitas IV"

That's the dulcet tones of Neil Crud, introducing us to his audience when he had us on his Tudno FM radioshow for a live session on 16th December 2019, back in the old days when you could do things like that. We played three tracks that night; "Neil Crud On Tudno FM", "Silent Night" (well, it was nearly Xmas!) and "MMATT 33 Crudup". In some ways, he's more to blame for Magic Bullet than Shaun is; he may have given us our first release, but having us on the radio for a live session really encouraged us...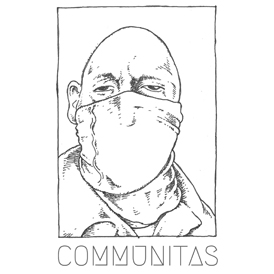 12 - "Neil Crud On Tudno FM (Studio Remix)" - Magic Bullet

NEIL CRUD (Not On Tudno FM Any More, Sadly)
Formerly singer with Sons Of Selina back in the heyday of M&E, when we released several albums by them (the live one, "Now Give Me Back My Cake", was included on our 2017 "United World Underground Collection"). They became M&E's best selling band, paying for two of our mansions, the luxury yacht and a Lamborghini. Nowadays Neil sings and plays guitar with pithy punksters, Spam Javelin, whom we worked with just recently. Well, I say worked with, but it's not like we asked them or anything, we just took their recording and ran with it. Anyway, Neil forgave us and recently said he'd like to release a Magic Bullet album on his Link 2 Wales label, and although we suspect this is just so he can rob us blind and get his own back, we'd be honoured. Hopefully, that will happen next year. Meanwhile, the performance he inspired from us on his radioshow is included in full on our "Curiositas" album for posterity...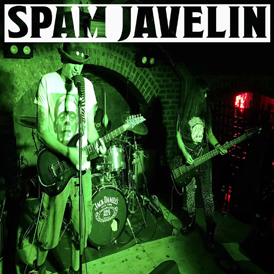 13 - "Rate, Like, Subscribe" - Spam Javelin

Spam Javelin released their second album 'The Three Chords Of The Apocalypse' in January 2021 on link2wales records.
'Rate / Like / Subscribe' is a new song about the youtubers and influencers whose whole demeanour depends on likes and views.
Hope you like it [sic]

https://spamjavelin.bandcamp.com
https://link2wales.bandcamp.com/music
http://link2wales.co.uk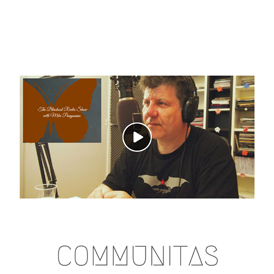 14 - "Unitas V"

"Magic Bullet are Mick Magic and Skit Zoyd that used samples from 'Nazi Line Dancers Fuck Off' by Spam Javelin, and they would like to convey their heartfelt thanks to Star Trek for the idea, and the finest punk band in Wales for being good sports..."

The voice of Mike Pougounas on his Blackout Radio Show. Going back to the early days of M&E, Mike was singer with Greek goth rock band, The Flowers Of Romance, who had an album on the label in 1992, a special edition of which was reissued as part of "The United World Underground Collection" (M&E 25-01, 2017). Aside from that, he used to write for 101 zines and was always a great proponent of our projects in their pages, and here we are still friends nearly three decades on. These days, Mike sings with New Zero God, writes a music blog and continues with his radio show. Ευχαριστώ για όλα φίλε μου!

Radioshow Archive: https://www.mixcloud.com/mikepougounas/
Tribe4mian's Weblog - https://tribe4mian.wordpress.com
New Zero God - https://newzerogod.bandcamp.com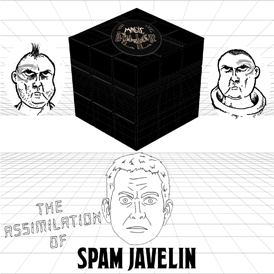 15 - "The Assimilation Of Spam Javelin" - Magic Bullet vs Spam Javelin

Resistance is futile.
"The only way to get rid of a temptation is to yield to it." (Oscar Wilde)
The theme of the March 2021 project of the EFSPACM group, of which we are proud to be members and of whom we shall be coming back to in Volume III, was "Javelin", and I have to be honest, we found that particularly uninspiring. Until we thought of Spam Javelin and the fun we could have mashing up one of their three chord
apocalypses, especially "Nazi Line Dancers Fuck Off". The Borg thing (the half machine villainous aliens from Star Trek, not the retired Swedish tennis player) came from some jingles we'd been doing a couple of weeks earlier for Tim Jones' Reverend Rabbit Radioshow. Put the two together and this is what you get. We're thinking of putting it forward for a Grammy...

► Originally released on "Javelin" (EFSPACM, April 2020)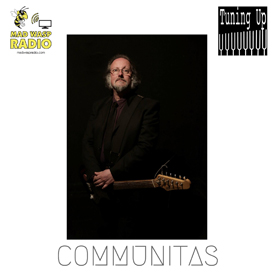 16 - "Unitas VI"

"Listen to Tuning Up on Mad Wasp Radio." Ooh, hasn't she got a soothing voice?
"Thank you and hello," actually, John Armstrong's is a sea of tranquillity too, "and resistance is never useless, or indeed, futile. We started the show there with Magic Bullet and The Assimilation Of Spam Javelin."

John, also frontman with Manchester band, The Speed Of Sound, opened the show with our experimental spacepunk mash up, which must have been something of a shock for his regular listeners, because we got played alongside the likes of Julie London! Having said that, John's radioshow is nothing if not eclectic, and many thanks for your continued support, sir!

Radioshow Archive - https://www.mixcloud.com/john-armstrong6/
The Speed Of Sound - https://thespeedofsound.bandcamp.com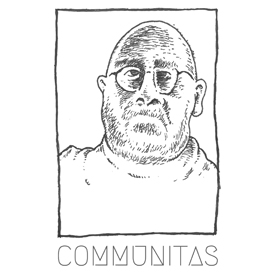 17 - "Unitas VII"

"Monsieur Nomized... Fraction Studio... musicien experimental... vive la France!"

M.NOMIZED (Fraction Studio)
M.Nomized is one of the best known names in the field of electro-experimental music, and probably the only man who could go toe to toe with Gypsy when it comes to how prolific they've both been! We first connected some 25 years ago, we released several albums of his on M&E, he used to distribute a few items of ours via his Fraction Studio. More recently, like March 2020, his became only the second label to release a Magic Bullet track, thus joining our band of brothers. Gentil homme.
► Fraction Studio Compilations