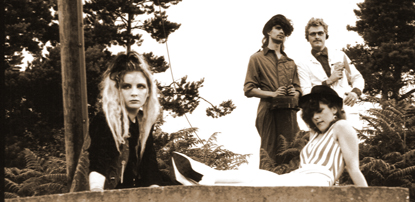 The Way We Were; the original fab foursome in the summer of 1987
---
The third Magic Bullet project to see the light of day was this far more complex mix of material from our old MMATT catalogue, but it's not quite as big a leap as it at first appears, the learning curve of the entire "Digitalis" sessions having happened in between times. It was another exercise Skit had set for me, to teach me the amazing things you can do with digital technology, things that could have only been the wildest of dreams in the analogue era, and fortunately, things that didn't require tipping any more beer over my head. You know, the simple luxuries; like being able to slow and speed up tracks without affecting pitch; perfectly synching different tracks together, stuff like that. I see a lot of digital era musicians shrugging indifferently, but this was like a revelation to me, my being a relative dinosaur from the golden age of cassette culture. Only now I was willing to learn, now I wanted to learn.
o
Although MMATT had finally come to an end soon after the original release of "Creavolution" in 1996, some 16 years before I started The Magic Net and took my first baby steps into the digital age, I had never let an anniversary of the band's birthday pass without mention. This particular year, enthused by the reasonable success of 2018's analogue remaster, and subsequent reissue, of "Creavolution Reborn" on TMR Records, not to mention the fact I was now actually involved in a musical project again, I wanted to do something a bit special, and that's when Skit suggested the mashup. Oh, and of course, 33 is a bit special in itself, because it's the vinyl anniversary! So, where does it all come from? Mostly from that final album, but with a few obscure bits thrown in because I wanted to include as many of the old crew as possible. Whether they're still talking to me or not.
o
1. The synth FX at the beginning are actually taken from our avant garde accompaniment to Mal Cieslak's (now known as Mal Foster) "Magic Moments At Twilight Time" poem, played by Jay & Kate, originally recorded for the At Twilight Time projects in 1987.
2. "Sound, the final frontier"... yes, I'm a Trekkie, no I've never dressed up like a character from the series, but do confess to owning the badge. That's the voice of Shona Moments, an intro originally recorded for a first take of the song called "Magic Moments At Twilight Time", intended for the first edition of "Zoen Nostalgia", but didn't make it until "Earthbound", the second one.
---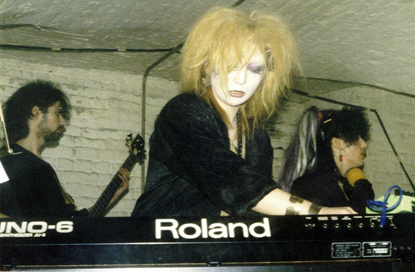 Jay, Kate and Shona, on stage at The Crypt, Deptford, London, March 1988
---
3. Then we get on to the "Creavolution" bits; the swishy piece of white noise at the beginning and main track were built from samples of "The Starship Psychotron", itself a reboot of the "Freedom Overflow" radio theme. When the vocals start, that's Leonie Jackson you hear first, from the final version that appeared on the album, the alternative it's cut with features Inga Leru-Kelly, who of course sings elsewhere on the album, taken from the unused first version, titled "Storm".

The Creavolution Sessions; Leonie and Inga at Brain Dead Studio, London
---
4. "Love Let Thy Name Be Darkness"... rather obviously from the track of the same name. You get the opening guitar riff soon after, then Leonie and I doing the "and my heart beats like a drum" lines a little later. Think dark version of Kelly Marie. Boom boom.
5. "Ha j-jerk"... yup, that's my voice and that comes from "Kronophobia".
6. "Om ne sado"... the wonderful dark voice of operatic baritone, Brian John Doran, and the even more wonderful faked orgasm of Inga Leru-Kelly (who's been a naughty girl?), both come from "Demonic Attack", as does the "ooh ferocious" right at the end.
---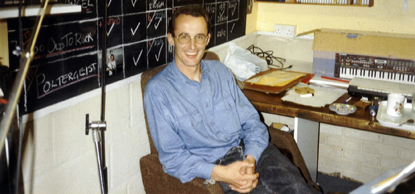 The Creavolution Sessions; baritone Brian John Doran of Operattack
---
7. "Mummy!"... that's Leonie again, this time from the end of "Purple Eyed And Mystified".
8. "It's Party Time!"... myself and TMR Records main man, Marc Bell, shouting the odds at the beginning of "Rock And Roll Lifestyle".
---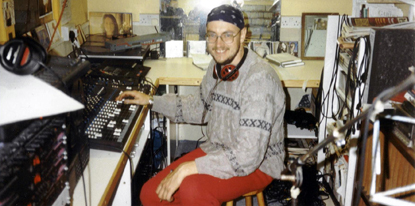 The Creavolution Sessions; studio engineer & TMR Records boss, Marc Bell
---
9. The 'goodbyes' feature the voices of original foursome members, Jay Time and the late Kate Twilight, as well as Shona's and my own, all nabbed from 1988's "The Time Machine".
10. As for "the adventure continues", it's kind of omnipresent, isn't it? The voice is, of course, Shona Moments, and I have a feeling it was first recorded for "Zoen Nostalgia", but I'm honestly not sure.
---
All of that stuff seems so long ago now, and many of the people involved I haven't seen for 25 years or more. Luckily, that's not the case with all of them! Back in those pre-Covid days when you were allowed to travel and be within two metres of other people, a little over a month before the Magic Bullet project even began, we did one of those long jaunts back down south to catch up with family and friends, which quite naturally included a reunion for Sam and I with a few of the old crew; Shona Moments, Nick 'Morgan' Lewis and Pete Program. I've put a few photos and notes together from the day, which you'll find on the big link at the bottom there. I won't put all the individual play links on here for the MMATT tracks used, because you can find them elsewhere on this website on the "Creavolution 22" feature. The analogue remaster of "Creavolution Reborn" is still available on CD and DL too, you'll find the link on the Sounds Bazaar page. And finally, I suppose I should point out that Skit made a few contributions to this track as well, not least some nice digital synth noises. Oh, and the electric drill. He loves power tools, what can I say?
o
LINK: "Creavolution 22" http://www.mickmagic.net/Creavolution%2022.htm