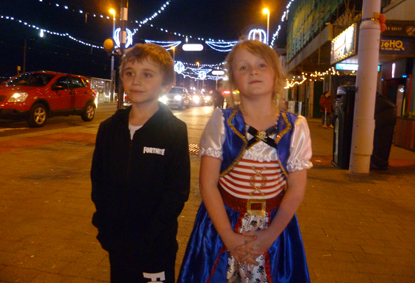 Born on the same day; rock and roll's most eligible couple, Charlie Crud
& Twizzle Magic hit the streets of Blackpool for the 2019 illuminations
---
Shaun Robert often gets the blame for inflicting Magic Bullet on the world, but cut him some slack, he is not solely responsible. He may well have been the first one to release any of our music, but this guy seriously encouraged us by giving us a live radio session on his show! Of course, we have a lot of history with Neil Crud, we had several Sons Of Selina cassettes on Music & Elsewhere back in the day, and he still insists they paid for our house, thus thinks he should be able to come and stay whenever he likes. It was one such visit that lead to all of this happening, and when you are sitting comfortably, I shall begin...
o
Back in the old days of 2019, when you could travel, visit people and do shit, Neil had promised to take his son Charlie to the Blackpool illuminations, so took up his right of temporary residence in the Asgard of this dimension mid October. We weren't complaining, we got a free copy of the Spam Javelin "The Crack Whores Of Betws Garmon" LP (on vinyl!) and a sticker to put on my guitar. Skit and I had been doing Magic Bullet for just over a fortnight at this point, Charlie even wore a tracksuit with 'fortnite' written on to mark this milestone, but being only 6 at the time, couldn't spell it properly. Bless him for trying though. Skit, unfortunately, couldn't be around while Neil was here, but I was happy to play him the animal sounds one we'd started out with that had got Shaun Robert the blame in the first place, and some of the Digitalis sessions.
"I love it, but my listeners would hate it," he said with a broad grin on his face, "tell you what, take me to a bounce 'n' play, and so long as you don't do that animal noise shit one, you can have a live session on the show."
If you don't believe me, here we are at the bounce 'n' play...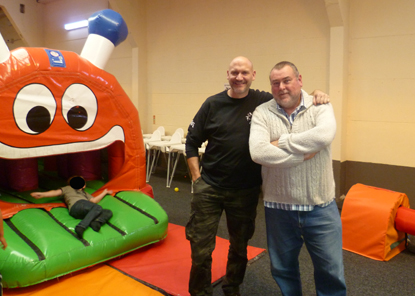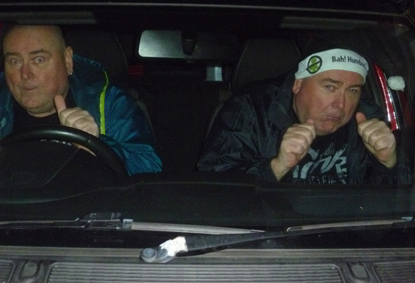 Cruddy ambushes us with a camera as we pull into the Llandudno car park in the Skoda Fabiatron. Skit is, of course, the one in the 'bah humbug' hat
---
So it was that early on the afternoon of Monday 16th December 2019, Skit and I packed the gear in the car and headed off for the 2½ hour drive south. And then a bit west. And probably a bit longer, being 'men of a certain age'. Plus, as we were passing close by, we stopped to take a look at the ground of Connah's Quay Nomads on the way. Which is actually more of a campus than a football ground, but there ya go. Probably lucky they weren't playing or we'd never have made our session at all! We like football. But I digress, which is quite unlike me. We'd texted Cruddy as we'd hit the outskirts of Llandudno (this was back in the days you could drive through it without dodging goats), so he was waiting in the car park when we got there, ready to grab a first photo to go up on the show's Facebook page. I seem to recall it was bloody freezing, so I went into the studio to get a picture with Neil (top right) while Skit unloaded the car. It's okay, we let him have a coffee when he'd finished. No biscuits though, it's not a fucking holiday camp.
o
Not only had Magic Bullet been together for a mere 2½ months at the time, but neither of us had ever done a live session from a radio studio before either. Okay, I'd done the BBC interview at Broadcasting House in 1993, but that was just sitting by a microphone answering questions. This was a wholly new experience, and I don't mind admitting, we were both a bit nervous. I don't know about Skit, but I hadn't played live anywhere since the early 90's! Neil was cool as a cucumber though, the consummate professional, putting us both at ease while we waited for the show to get on the road. We were only scheduled to do three brief tracks in the 90 minute broadcast, but oh, the weight you feel on your shoulders!
o
For the show itself, I've done a separate featurette, which includes individual play links to each of the three tracks we performed on the night, coz there isn't really room enough to put in the Facebook page chat and stuff here, so just follow the link at the foot of the page for the full monty. Suffice it to say we had a great time on the programme, and all the positive feedback we received did a lot to boost our confidence in our then fledgling project. And ultimately, Cruddy got himself a new theme tune, enjoy muchly...
o
► "Neil Crud On Tudno FM (Studio Remix)"
o
LINKS:
Neil Crud Interview (New Year 2013) http://www.mickmagic.net/Neil%20Crud%20(1).htm
UWU Neil Crud Article (Spring 2019)