Stille Nacht / Silent Night
Our festive offering for Christmas 2019
Running Time: 8:25
Later Released On: "Curiositas"
Label: Music & Elsewhere (M&E MB-001)
Release Date: 26th April 2020
Format: Download
Buy Links: Bandcamp - GBP £4.00
2020 / Xmasia Mix: 5:07
Released On: "Xmasia" - DEF CEMBER (Various Artists - 69 tracks)
Label: Camembert Électrique
Release Date: Throughout December 2021
Format: Download
Buy Link: Bandcamp
Buy Links:

Stille Nacht (8:25)

Silent Night - 2020 / Xmasia Remix (5:07)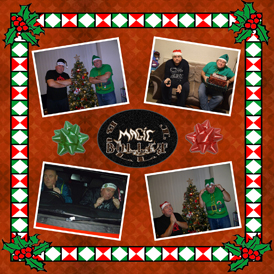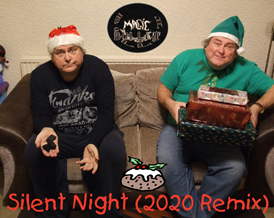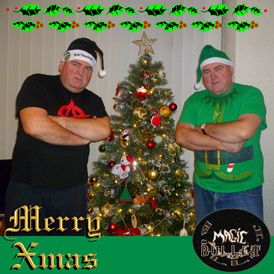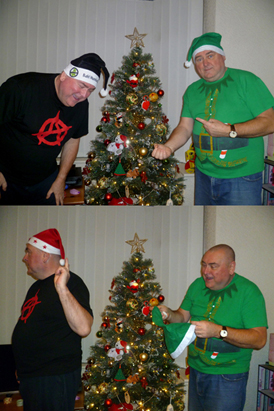 It's hard to tell if this is sincere yuletide cheer or absolute cynicism, isn't it? Can't say Skit and I are that sure about it either, but there is a tale to tell. We were working on this track, originally planned to be in excess of 10 minutes, before our appearance on Neil Crud's radioshow, on which we performed a vastly cut down version of it. It was a project that was very important to me personally. You see, I'd been on The Naughty List since 1973, and Twizz would get very sad, seeing me sat there on Christmas morning with no presents to open. I don't know if she had put in a good word for me, or Santa had just decided that 46 years was punishment enough, but not long after Magic Bullet had formed, we got a phone call from one of his elves offering me a deal; if we recorded a Christmas song in time for the forthcoming festive season, my purgatory was over. Thus, with much encouragement from our Twizz, work began. It was inspired, rather obviously, by the 1976 Can single, a band whose work we both love and admire, but we fancied doing a "12 incher", not to mention exploring our artier tendencies a bit too.
o
To begin, we imagined someone trudging through the snow with sleighbells, and that's pretty much what the opening and closing sections are composed of, albeit with much echo and a few electronics. All are taken from videos we found online, we confess to not owning sleighbells ourselves and it rarely snows in Knott End-On-Sea, but we do have electronics aplenty. A few sampled piano notes follow, and we're in to the main build. There have been a lot of guesses as to what kind of synthesizer was responsible for the melody, but nobody got it right. Stylophone. Seriously. We recorded each note separately, pitch-shifted them down an octave, then cut some random samples from them. Each was looped to as near its required length as we could get it, then digitally stretched or shortened to fit perfectly, a process which serendipitously created some wonderful phase beats and clicks. The final touch was the 'hurdy-gurdy' sound, actually created by stretching out a low piano note and looping it.
o
Well, in spite of the little bit of cynicism involved in leaving the little ker-ching of the till at the end (Skit's idea, and he wonders why he gets coal!), it worked, Santa was good to his word. Come Christmas morning, there on top of the present he'd brought for Twizz was a little package for me. She was so excited, bless her, made me open it before she'd even look at any of her own sizeable pile. Carefully, I unwrapped it, and there before my eyes was series 2 of The Orville on DVD, one of my favourite shows! That Santa certainly knows his stuff. On the downside, there was a note; "We liked your Christmas song very much, but don't expect this every year. Sanoma, Senior Elf, pp Santa." That seemed a little mean-spirited all things considered, but sure enough, although we did a pretty cool remix for Christmas 2020, pressies from the family, but from Santa himself, fuck all...
o
Left: The Christmas Photo: Rarely perfect first time... but off The Naughty List after 46 years!