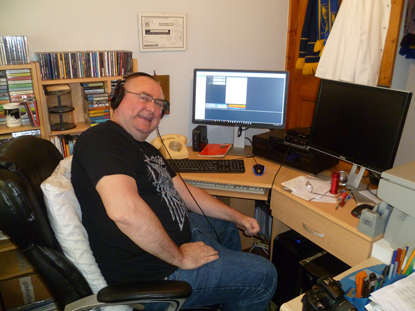 Mick Magic preparing for a session on Tracktion 5, photo by Skit Zoyd
---
It started on the morning of Thursday 6th February 2020, Skit and I were experimenting with some newly discovered sound processing techniques over a coffee and a bourbon biscuit or two. Of course, there were occasional breaks for the obligatory checks of social media, and on one such foray, we saw a re-posting from an Alexey Kondart on Facebook, asking for material for a '400 Way Split', a 400 track compilation album! Ambitious, we thought. Duly intrigued, we visited his profile to find out more, where we found another post asking for tracks for a different compilation; 'duration not less than 1 hour'. Now that seemed an interesting challenge; both of us had been recording for over thirty years and had never gone far past 35 minutes. Further intrigued, we Googled Alexey's label, Broken Tape Records, and found their Bandcamp. Wow. Endless hours and hours of all nature of experimental sounds which we explored with vigour, at least until lunch time. We loved what we found there, it was like a special heaven for experimentalist aficionados, and every album, even the huge mega-compilations, was absolutely free. Putting all
that together would have been a monumental task, and all of that without collecting a penny for it, as intensive a 'labour of love' as we had ever seen in our underground years. How could we ignore the call to arms?
One cheese toasty later, the two of us were sat down planning our magnum opus. From Dr. Magic's Audio Lab, we chose a number of sounds from the natural world, amongst them being thunder storms, wind, rain and the oceans; plus some not so natural ones, such as a car phone, internal combustion engine and motorbike. These would be the building blocks for our work, though possibly not in any recognisable form by the time we had finished playing with them. For the introduction, we decided a nod to the label being Russian would be appropriate, so took advantage of one of the many online voice generators to have a female voice saying repeatedly, "My name is..." ( in Russian, of course), accompanied by strange noises, as is our way. From there, we proceeded to create our sonic journey, one step at a time, taking full advantage of the available stereoscape and everything our bag of tricks had to offer. Must admit, several hours later, when we eventually sat down to listen to the finished work, we were quietly impressed with the result of our efforts. I think we'd both been concerned that it would be hard to keep such a long piece interesting, but never once did we tire of it. However, it was a bit long to stick on our Reverbnation to get a bit of feedback! So, over the next couple of days, I put together an 8½ minute special edit for exactly that purpose. I uploaded it on the Saturday, it was rather well received, so an e-mail was on its way to Alexey Kondart Sunday morning. He liked it, especially the title, which roughly translates as "lengthy audio work with a pretentious title in Russian", which it was originally released under by mistake, before ultimately

becoming "Solidarietas", which we were more than happy to see become our official debut album.