We Say IFAR Compilations Very Good
Running Time: 1:00
Released On: "The Advert Compilation" - Various Artists (rolling compilation)
Label: Institute For Alien Research
Release Date: Our track added 28th January 2020
Format: Download
Buy Link: Bandcamp - Name Your Price
Later included on "Communitas: Volume I" (M&E MB-005, 1st October 2021) ►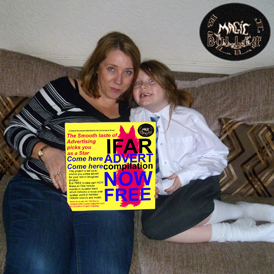 Our homage to the label that presented us to the public for the very first time, Shaun Robert's Institute For Alien Research. We loved the idea of this one, a collection of one minute takes on advertising, be they spoof commercials or otherwise, ours being the former. The background is created from a live orchestral performance of John Cage's 4:33 that we found online, speeding it up (but not changing its pitch) to fit the exact one minute requirement of this project. The next constituent was a slightly processed sample loop of a piece of particularly cheesy music that sounded like it belonged in an advert and nowhere else. No apologies to the composer, go and hide your head in shame! For the voices, we turned to the countless online speech generators you can find on the internet, the first time we'd used them, for those keeping score. Magic Bullet, we say IFAR compilations very good, you buy now, you buy now, you buy now...
---
Written by Magic / Zoyd with the appliance of science
Recorded and mixed in The Mmatterialisation Chamber,
Vorsprung durch Technik, 24th January 2020
Published by Mmatterial (schh... you know who)
The photo (above right); Samantha Magic is often mistaken for her 6 year old daughter, Twizzle. Eight out of ten cat owners say this is because she listens to IFAR musique concrète compilations.
---
A n d A W o r d F r o m O u r S p o n s o r s
---
www.reverbnation.com/magicbullet8
Enjoy a listen to some of our other output, and remember,
a track a day helps you work, rest and play...
www.facebook.com/magicbullet8
Let your fingers do the walking, click on 'like',
does exactly what it says on the tin...
https://twitter.com/magic_bullet8
I can't believe it's not Twitter, but actually it is though, it's the
real thing, we liked it so much we bought the company...
www.mickmagic.net
Probably the best underground website in the world,
think different...
himself@mickmagic.net
Have a break, have a chit chat...