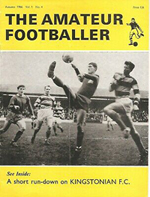 My grandad was a huge fan of the amateur game, he'd give short shrift to all those 'big time Charlies' earning £20 a week or more, I dread to think what he'd have made of the modern game! As a kid in the mid 60's, I used to enthusiastically devour his collection of copies of The Amateur Footballer magazine, fascinated by teams the other kids at school had never heard of, especially the ones with epic names, like Corinthian Casuals, who coincidentally were Wimbledon's last opponents as an amateur side. This is where I first learned about Eddie Reynolds all conquering team and the '63 FA Amateur Cup Final victory against Sutton United. However, aside from having spent the first few years of my life in nearby Mitcham, I had no personal connection there as yet. Going in to the 70's, I used to go to watch Aldershot in the old fourth division, being my local side at that point in time. But The Dons, they were always an interesting non-league side to keep an eye on, especially in the FA Cup, like that amazing giant-killing at Burnley in '75, a Southern League club against a team that finished the season 10th in the top flight! Then the famous Dickie Guy penalty save against Leeds United's Peter Lorimer that earned them a replay in the next round, a replay they only lost 1-0 to a team destined to play in the European Champions Cup Final against Bayern Munich four months later! Not even Roy Of The Rovers made up stories that good!
So how did I become a Womble? By birth, as it turned out. You see, at around 16/17, I found out I was adopted, circa the time an act was going through parliament that would allow adopted children to obtain copies of their original birth certificates. When that was passed in 1975, I was quite eager to find the truth of my origins, though I'd have to wait till I was 18 the following year. My adoptive parents had always believed I'd been born in Kensington, but that had just been the base of The Candy Club, through whom my adoption had been arranged. To my utter surprise, albeit a pleasant one, I discovered I was born on The Downs in Wimbledon. That and a name for my mother was all I knew of my real beginnings at the time, and over the next year or so, it came to mean a lot to me. My first visit to Plough Lane came the season they were elected to the football league. It was a midweek evening game, quite early in the season as I recall, which I'd gone to with Aldershot. It was The Shots who emerged victors on the night, but it was an outcome I found myself in two minds about come the end. There was something special about Plough Lane, hard to put my finger on it, but it wasn't like other league grounds. And there was that special connection via my birthplace discovery too. It would be 25 years before I went to another Aldershot game, but I was back at Plough Lane a few weeks later to see Wimbledon get beaten again, this time by Southend. I did see them win a game eventually, though it took a while, it was around my birthday (21st April, I like marzipan) the following year, Stockport, I think.
With the formation of Magic Moments At Twilight Time in the Autumn of 1986, my free time all but vanished under a sea of writing, rehearsing, recording and gigging; actually going to games was completely off the menu. However, I did remain an avid armchair supporter, even halting one Saturday rehearsal early so I could watch the lads win the 1988 FA Cup Final against the mighty Liverpool. But a few years later when the club left Plough Lane, purely as a matter of principle, I vowed never to go to a 'home game' again, at least so long as the ground-sharing at Selhurst Park continued, which it did till the bitter end. As you can imagine, when in May 2002, the FA gave its considered consent for a 'group of businessmen' (whom I can think of a better word for) to relocate the club to Milton Keynes, some 70 miles from Wimbledon and roughly equivalent to Margate playing their home games in Ostend in Belgium, the world ended there and then. Even though the band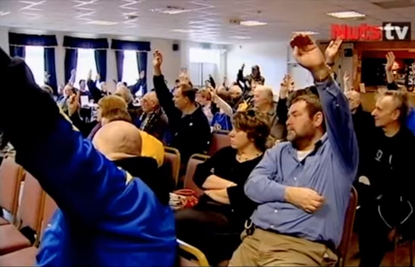 A still from "Football Hurts", the rather philosophically titled 2008 Nuts TV documentary on AFC, Sam and me are the two faces closest to the camera
---
was history by this point and Saturdays were filled with little more than shopping trips, I didn't want to know about matches with Wolves and Nottingham Forest being replaced by recreation ground kickabouts against Withdean 2000 and North Greenford United. I was angry about my team being forced into a position where they had to start all over again. From the bottom. But when they failed to get out of the Combined Counties League at the first time of asking, I felt the pangs of guilt for not being there to support them. Finally, second season, Saturday 8th November 2003, Sam and I visited Kingsmeadow for the first time, where we enjoyed a Joe Sheerin hat-trick and a 6-0 demolition of Hartley Wintney. We hadn't done that against Manchester City! It was great. And there in the crowd, I recognised faces I remembered from Plough Lane a dozen or more years earlier. And it had that feel again. I was home.
And that's how things stayed, at least for a further 150 odd visits, until June 2012, when we surrendered our season tickets for our own relocation to Lancashire. I remain a proud member of The Dons Trust and, up until Covid restrictions made it impossible, we would often go to away games when the lads were up this way, especially Fleetwood Town and Blackpool, both of which are only a ferry and tram ride away. Fingers crossed we'll be able to start doing that again next season, and we desperately want to visit the new stadium now we're back on Plough Lane, it was absolutely heartbreaking we couldn't be there for the opening, and after everything we've been through. All of which brings us up to date and the creation of The AFC Song. I'd long wanted to do a track for the club, but I'd never been in a band before that was the sort that could really pull off a football song. MMATT were fronted by female vocalists, too arty and psychedelic, it simply wouldn't have worked. But the new outfit, Magic Bullet, we're up for anything, broad spectrum experimentalists, and Skit he say yeah. So we settled down to start work on it in the New Year of 2020. Using samples from the old MMATT rocker, Lights Turn Blue, we'd put together a kind of spacepunk theme for our recent live radio session on Neil Crud's Tudno FM show (ironically, a Liverpool supporter, we may have mentioned the FA Cup to him once or twice), a theme we thought would make a perfect footie anthem. Develop the synth lines a bit (we actually used a Stylophone to achieve the effect we wanted, sshhh!), add a few more electronics, change the words from 'Neil Crud on Tudno FM' to 'we all love AFC', weave in and synchronise some crowd noise (mostly recorded away at Bradford City, two years ago today at the time of writing), et voila. It's gone on to become our most streamed track by a considerable margin, and rightly so, a top song for a top football club...
C O M E O N Y O U D O N S !
---
A LINK FOR THE CURIOUS;
► MMATT - "Lights Turn Blue" (4:47)
(the source of the samples, from the 1996 CD "Creavolution")