There are times when you say things with the best of intentions, but maybe they don't quite work out the way you'd thought. If I'm honest, this is probably one of them. Skit and I had really enjoyed producing "R.F.A." for the February RPM Challenge;
1) it was for a noble cause.
2) it seriously appealed to our sense of humour to add something utterly unlistenable to their roster of listening parties!
We weren't at all sure about the next gauntlet they threw down though; the REM Challenge. Not, as you may think, to do the most original cover of "Shiny Happy People", as much as we'd love to, rather to Record Every Month... for the next year! Not that that, in itself, would be a challenge, we normally produce at least three new recordings 0n an average month anyway. But they are always accounted for, either for a release by a specific label or a special project of our own. So, it would be a case of doing an extra recording every month, for a year, did we really want to make a commitment like that for something that was ostensibly just for the fun of taking part? I thought I could at least check the terms and conditions of the new ordeal with RPM Supremo, Elling Lien, in the meantime...
"For the new 'every month' one (yeah, let's do it!)," I posted, wanting to share a little enthusiasm, although the decision hadn't definitely been made yet, "what are the requirements for track length etc? Ta. #InEllingWetrust!"
(*It's not a hyperlink, don't bother trying to click on it, I just used blue text to keep it true to the original post. If you don't believe me, it's over on the right there.)
"No length limit!" He replies.
"Cheers." Said I, knowing that would make it a lot easier, but I couldn't just leave it there, could I?
"No 35 minute ear-bleeders for this one though, promise!"
"Mick Magic Don't make promises you can't keep!"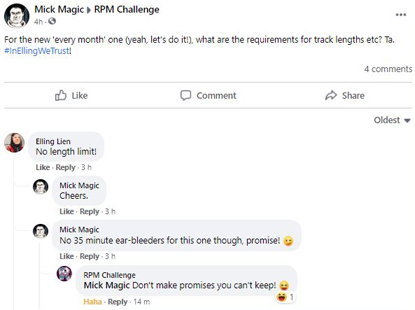 How did they know? We've checked the house for bugs and cameras. None. Apart from the well hidden Santa-Cams, of course, just in case Twizz reads this. But they knew anyway. Sure enough, when Skit and I made the decision to go for it, at the breakfast table, on Wednesday 31st March, Skit looks up from his Coco Pops, brown milk dribbling down his chin, and suggests we do a 35 minute track built from samples of pneumatic drills. Oh, what criminal duplet would break a promise so wilfully? And that's what we called the track, "Criminal Duplet", which by some strange coincidence, just happens to be an anagram of 'pneumatic drill'. Small world. But look, seriously, we won't do the same again for April, trust us...
---
LINKS (it's not too late to join in!):
https://www.rpmchallenge.com/remchallenge
https://www.facebook.com/RPMChallenge