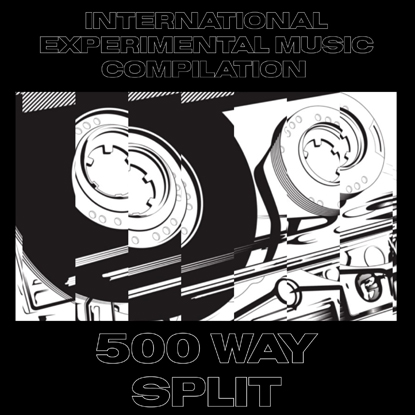 Alexey Kondart's Broken Tape Records continue with their noble quest to collapse the servers at Bandcamp! From their first international experimental mega compilation in September 2019, a mere 100 tracks strong (that's just an E.P. really, isn't it?), they've been upping the ante a notch every time. By early 2000, they were seeking tracks for the 400 Way Split, and that's where we first got involved. We thought it was quite mad (we know how much work is involved with big compilations!), but such an amazing thing to do and so worthy of support, so we got in touch, which ultimately lead to their releasing our first album, Solidarietas. Naturally, when we recently saw that Alexey was now collecting for a 500 track release, we not only wanted to be a part of it, we wanted to help spread the word about the project too (the title of our contribution is 500 in Russian). This isn't a self-interest thing, there's no real mileage in
having a 3 minute spot on a compilation that would take in excess of two days non-stop to listen through*, it's about the nature of the project itself. This has the potential to be like a snapshot of the entire global experimental scene, it'll be an amazing record for posterity. Though personally, I wouldn't bet against him doing the 1,000 before too long!
At the time of writing, which is July 2021, the gathering for the 500 has just recently started, and I suspect will take some months yet. So, the offer is there; if you are a producer of experimental music of whatever type (and here's the list from the info; field recordings, drone, noise, hnw, techno, idm, breakbeat, drill and bass, ambient, soundscape, musique concrete, sound design, spoken word, non music, digital hardcore and gabber, industrial, glitch, dark jazz, downtempo, lo-fi, witch house and related styles), you are cordially invited to take part.
Basic requirements;
Minimum duration: 3 minutes
File format: FLAC / WAV
Maximum size: 600 MB (Bandcamp imposed limit)
Send to (We Transfer or similar): brokentaperecords@mail.ru
I can't really see Alexey adding individual track artwork and artist details 5oo times over somehow, but include a bit of basic info and a link just in case. And if the album isn't out yet at the time you're reading this, tell your friends! See you there...
LINK: https://brokentaperecords.bandcamp.com/music
*Unless he puts us first, of course, not that we're hinting or anything, but you know, we did write and record Пятьсот specially for you, and it being called 500 in Russian would be a convenient starting point for the collection, but like I said, we're not hinting or anything, no pressure, Alexey, you mustn't feel compelled to show gratitude for all the promo work we're doing on your behalf here, always happy to help. I haven't laid the begging on too thick, have I?