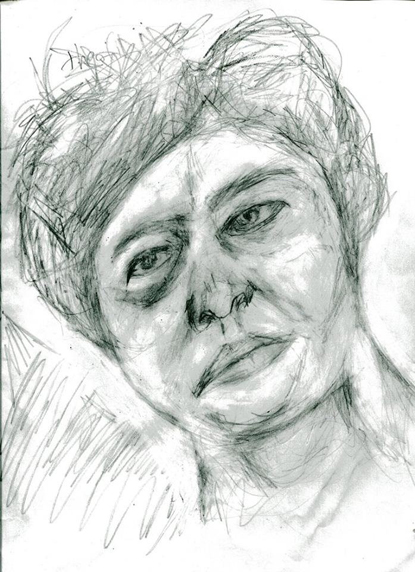 Having already done a couple of successful collaborations for Volumes 7 and 8 of Mr. Eel's Two Halves series (Du Ciel Ā La Terre with M. Nomized and Duelling Fanjos with GMPSCKT), we were very keen to throw our hat into the ring for Volume 9 when it was announced circa April 2021.
o
Almost immediately, we were paired with one Theofil Tsiolakakis (that's him in the sketch), aka Mean Flow, who thanks to The Zuckerberg's obstructive algorithms, we'd not really noticed we'd actually been 'friends' with on Facebook for some seven years already. We swapped a couple of ideas, but the release wasn't due for around six months, so it was left on a slow burn for the time being. Until I suddenly realised it was summer and figured we'd better actually do something.
o
We began to familiarise ourselves with Mean Flow's music, and there was certainly quite a lot of it, material on Bandcamp alone going back to 2014. Theofil did the same on ours (bit less, lucky him!) and ideas gradually began to formulate. Have to be honest here; none of our initial ideas came to anything, so we resorted to sending him a begging letter;
o
"HELP! It's just not happening, nothing we've tried is working, we're out of ideas we think would be compatible with your style (having a coffee and biscuit to your 'Noise Soundtrack' at the moment). Don't really understand why it's not coming, been very productive of late, 21 new pieces in the last 6 weeks. Bit of pressure, maybe, still have quite a few things to get finished before my daughter finishes school for the summer holidays in a week. Can you send us something to play with? We need your inspiration!"
o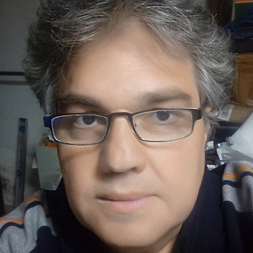 Thankfully, he did, and this is how we played with it. We gave it that title (in Greek, of course, as a mark of respect to our project partner) because it really looked like a perspective of nine pillars in the editing software, so I used a screengrab to form the background area of the accompanying graphic. Και ορίστε!
o
Theofil Tsiolakakis (this is him in the flesh)
---
P.S. The sharper amongst you have probably noticed this isn't released on Two Halves Volume 9, haven't you? Mr. Eel cancelled it, sadly, not sure if he will be doing any more in the future. However, as luck would have it, he was putting together a first anniversary compilation for the Bromtol Largesse label he co-runs with Volker Störtebeker, so he included it on that one instead. Sorted.