N i č e n ํ S t r o m ů
(Make It Harder To Breathe)
o
Running Time: 8:00
Released On: "Comp18 - Noisembryowl #3" - Various Artists (50 tracks)
Label: Owlripper Recordings
Release Date: 3rd October 2022
Format: Download
Buy Link: Bandcamp - Name Your Price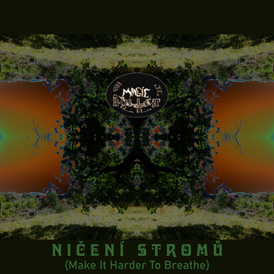 Our second project for Paul Priest's Noisembryowl compilation series, and it's a bit sad is this one, The Destruction Of Trees, coz we're quite fond of them. One sunny August day, Skit and I were in The Mmatterialisation Chamber putting a few ideas into the stuff we were getting together for our session on Neil Crud's Punk & Beyond radioshow. It was going quite well until this external noise started bleeding through the headphones, so off they came so we could work out what it was and close the relevant windows.
"Oh," Skit sighs, "pretty pretty sound."
But then you know him and power tools, huh? So we work out the sound is coming from out back somewhere, and living next to a working farm, you kind of get used to the odd tractor and things, but this was quite jarring, I could tell that because Skit was dancing like the strange old hillbilly in Deliverance. He stopped when Sam told him to get off the bed. He knows he's not allowed on the bed. But I digress, which is most unlike me.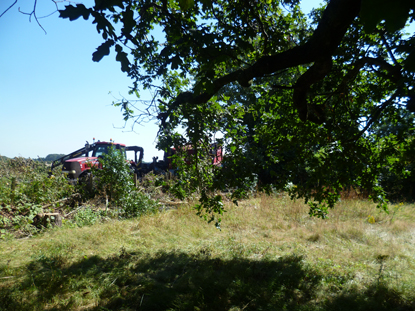 The sight that greeted us out of the bedroom window was that of a couple of tractors, along with industrial chainsaws and woodchippers. Okay, let's be fair, this wasn't just the wanton destruction of trees for the sake of it, there is such a thing as land management for farmers, plus they have to be conscious of the impact of their land on their neighbours. Whatever the reason, it's never a nice thing seeing beautiful trees hacked down. However, never ones to miss an opportunity, we were straight down there with microphones and recorded a good ten minutes of samples. Those trees may be gone now, but we were getting these sounds into the studio, determined to make a permanent memorial for them. It may be a sad thing, but there are some amazing sounds in there, especially with a little electronic processing. We look forward to the next time we get to contribute to one of Paul's compilations, but hope we can find a happier subject matter for our track. Maybe the destruction of Tories or something...