Requiem For The Thunder Rider
Running Time: 6:20
Released On: "Cosmic Silver (A Tribute To Nik Turner)" - Various Artists (13 tracks)
Label: Charlie Dog Records
Release Date: 3rd December 2022
Format: Download
Buy Link: Bandcamp - Free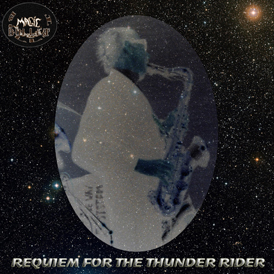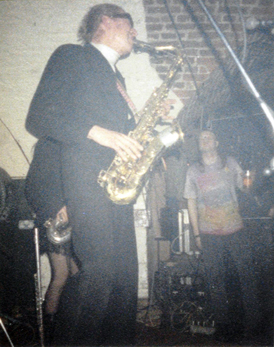 Nik Turner with his All Stars at The Crypt
o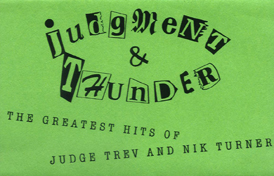 "Judgement & Thunder" (M&E 440, 1998)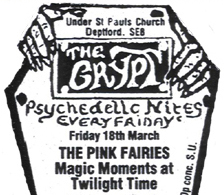 I only had the pleasure of meeting Nik Turner the once, that would have been at The Crypt, a seriously subterranean venue, actually created underneath a church in Deptford, south east London. I figure this must have been towards the end of the 80's, coz that was the era I used to gig there with my 'back in the day' band, Magic Moments At Twilight Time, and often used to go along to watch other acts too. Probably only a two minute chat, but then he had just finished an amazing set with his All Stars (not very well pictured left, but sorry, we only had film cameras in those days!) and was probably ready to put his feet up. Nevertheless, he made quite an impression. Okay, maybe I was just a little star-struck; I mean, I'd loved Hawkwind since I saw them on Top Of The Pops as a 14 year old in 1972, but he really was a very pleasant and friendly guy. Quite a musician too, those fingers just became a blur as he played that ever hastening version of In The Mood.
o
Some years later when I was running the Music & Elsewhere underground tape label, it kinda made my life when we got to release an album of his collaborations with the also late and much lamented Judge Trev, Judgement & Thunder, which unsurprisingly went on to become our best selling out-of-house release. When I started this website and the somewhat nostalgic M&E revival in 2012, I got back on to Nik to talk about interviewing him for it, which he instantly agreed to do. Then we moved house half a country away, then we had Twizz, and then and then and then... and now I'm kicking myself for missing the opportunity. It was an absolute honour to do a track for this album. I'll leave the last words to Judge Trev, written for the liner notes of the M&E album, because the universe had better watch out, its masters are back together again...
o
"I first saw Nik (the Mighty Thunder Rider) at a 1972 Hawkwind gig in Barnstaple. After the gig I was involved in a car accident and ended up in hospital with a broken leg. I somehow thought it was his fault. Since then nothing has changed. We have now been gigging and recording together for 15 years, some of the results of which appear on this tape. Unfortunately, there seems to be no end to this insane collaboration."