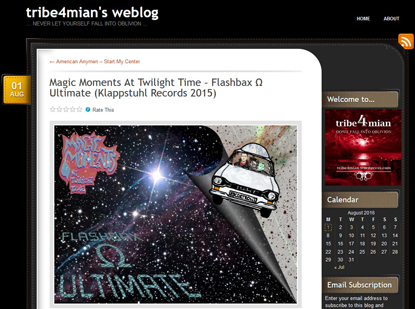 What started out as an idea to reissue one of the Flashbax Tapes Series soon turned out in a demanding project driven by the enthusiastic Mick Magic (you can read an interview we did with him a few years ago HERE) to create an ultimate Flashbax, showcasing the best of M.M.A.T.T…. featuring all the different line-up's with Shona Moments, Lulu Jackson, Pete Program, Kate Twilight and Jay Time performing some of the best alternative psychedelic space pop rock with female vocals ever made .
More than 3 Months in the making, transferred from the original masters by the bands supremo Mick Magic, re – mastered painstakingly and lovingly by Frank E. and supervised by 6 9 N & F you can hear the famous underground space pop rock from the first recordings from 1987 with selections from their cassette only albums up to 1992, just before work on the 1996 CD Album "Creavolution" (Music & Elsewhere) began.
Klappstuhl Records have released Flashbax Ω Ultimate on 25.10.2015, simultaneously as CDR Album and Digital Album.
The digital version includes a further rarities Album 'Flashbax Alpha II' with the secret single "Freedom Overflow" and the original 30+ Minutes Session Version of "Sister Jody".
Each CDR copy comes with an additional dl code to get all the bonus tracks and an extensive pdf booklet detailing the band's history by M. Magic as well as printable artwork etc.
The download version is available on Klappstuhl Records Bandcamp page, if people want to order the hard copy on disc, they need to contact Klappstuhl, the link for which is just above the 'redeem code' one.
There's nothing wrong with pop and rock music for the space age and remembering the times when everything seemed to be possible – with just a some DIY spirit and the tools at hand. Will this be the last M.M.A.T.T. release or a new beginning ??
Keep up with Magic Moments At Twilight Time
---
Basically, a personalised touch (and interview link!) added to the info on the original Klappstuhl promo leaflet, and muchly appreciated to boot. It's all about spreading the word to eyes that have not seen...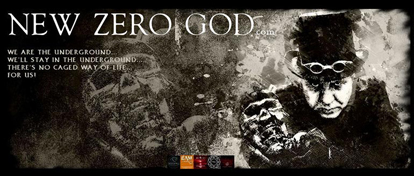 Whilst on the subject of music (and elsewhere), it's well worth giving a mention to Mike's current band, the mighty New Zero God. He 'We Transferred' (is that a legit verb these days?) me a copy of their latest album a couple of months back, "Short Tales & Tall Shadows". He's not lost that dark rich voice over the years (just his hair), trust me. NZG bring Gothic into the modern day, making good use of the digital studio variety of electronics, then throwing in the odd psyche element and playing around with dreamlike production. There's the expected nods to the likes of The Mission, Mike has worked with Wayne Hussey after all, and Sisters Of Mercy, but all moved on to the 21st century. And watch out for a few shows around Europe (which I trust will include the Methodist Church Hall in Knott End-On-Sea) coming up in the not too distant future. Sam and I actually recorded a short drama sequence for a Flowers album once, sort of doctors and nurses thing that Mike has asked us to do (British accents, very much in demand, though normally as bad guys in American movies). We're talking medical, we don't have a well kept porno secret or anything. I don't know if it was ever used though. To be honest, I'd forgotten about it till just now, maybe Mike will let me know when he's read this. Sam and I could have been in films if that had worked out. Fate can be a fickle mistress, eh...
NEW ZERO GOD - OFFICIAL WEBSITE
---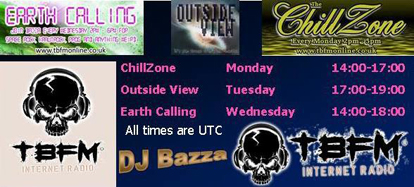 EARTH CALLING (UK)
And a late note in from DJ Bazza, we made his latest playlist on November 16th, nice man. But was he more sensible than those other radio jocks we've already mentioned? Did he play the nice sensible track? No, he aired "Variations (On A Theme By Peppa Pig)" too. Maybe fate is trying to stop being a fickle mistress and tell me something; "Magic!" (Sorry to make you work for it, but you have to imagine these words spoken in an eerie voice with lots of reverb, you know, like a New Zero God track), "Your psychotronic future lies in doing trippy covers of children's TV themes!" The rest of Barry's (oh yes, we're on first name terms now) playlists are infinitely more sensible. The recent show we're on, for example, also includes the likes