of Simon House (ex Hawkwind), UFO and Curved Air (good man), which I would go so far as to say is the sort of company we like to keep, whether we be worthy of it or otherwise. I did ask Barry for an update on his activities, but I cleverly caught him when he'd just gone on air, so let's just assume he's gonna keep playing great music (and MMATT stuff) for the foreseeable future. I do have questions though, it looks like he plays some electronic keyboards and FX with a band too (photo credited to a Harry C, but I'm sure he won't mind), and I shall indeed seek answers next time out (and promise not to wait till the last minute again)! In the meantime, enjoy some nice sounds from the man himself, and other kindred souls, on TBFM...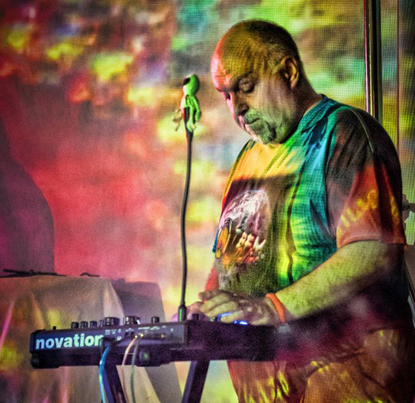 ---
DIGITAL DIZZY (UK)
Back in the day, Gary Waterworth used to run the Dizzy Positivity cassette label, not just through his love of music, but also to raise money for a cause he believed in; the Patchwork organisation, a charity that sought to support the courageous parents who home-schooled their children. In 1993, we were happy to give him the master of "Flashbax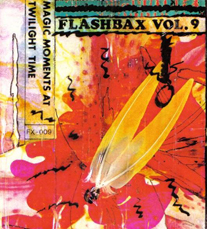 Vol. 9" to assist with that mission. Pictured left is their original release cover for it, and very psychedelic it is too. I rather doubt it's still available (you can pick most of the series up for a bit under a tenner via sites like DISCOGS, but I've not seen Vol. 9 on there in a while), though Gary has mentioned he's thinking about digitising it at some point. Anyway, 23 years later and nothing much changes. Of course, we're not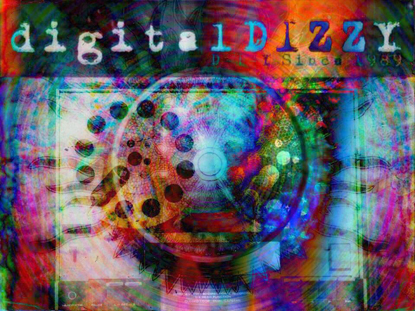 talking cassettes any more. Nowadays, it's Digital Dizzy, a net label, but he's still hard at it raising a fair few quid for the things that matter to him. Recently, he put together a seriously massive collection (no exaggeration - 11 hours of music, 114 tracks, amazing variety of underground sounds, including a special appearance by Nik Turner's Outriders Of The Apocalypse), "all monies go to the Langdale Merzbarn Cylinders Estate." This all goes towards preserving the Merzbau installation, a sculptural collaged wall in an Elterwater barn, by the notorious Dadaist art rebel, Kurt Schwitters. If you're into art, I'm sure you'll know who he is anyway, but there's plenty of info about him (not that you can ever be sure it's all accurate) on WIKIPEDIA either way. If you fancy expanding your digital music collection by a further 11 hours, this is certainly a worthwhile cause to benefit as you do so. Available on the link for a minimum donation of £5 GBP, but do give a bit more if you can afford it, cheers...
---
VARIOUS ARTISTS (114 OF THEM!) - "MERZFUNDER"
---
Included artists that will be known to M&E fans include DJ Urinal Cake (ex Vocabularinist), M. Nomized, Feroxide (ex Internal Autonomy) and, of course, Nik Turner (Judgment & Thunder, with the late and much missed Judge Trev). I'd promised to do a MMATT track specially for it too, but what with all the preparations for my transdimensional adventure et al, I didn't make the deadline. It's okay, I wouldn't let myself eat marzipan for an hour by way of penance. Oh, how I suffered. But, and let it be said, deservedly so. Anyway, as luck would have it, I wasn't the only one, so Gary has decided to do a kind of add on volume, which I offered him "The Electric Age Cometh" for, to which he graciously responded; "Fuckin love the song, Mick, and would be honoured to include it on the extra comp. Thanks for supporting this. x." Yes, I got a kiss on the end too. Hope that doesn't make Neil Crud jealous. Anyway, Digital Dizzy comp including MMATT to come. This was all like yesterday (18th November), so no further details as yet (New Year's Resolution will definitely be to stop leaving things to the last minute!), but the spaces to watch for further info are the Digital Dizzy FACEBOOK PAGE and their BANDCAMP.