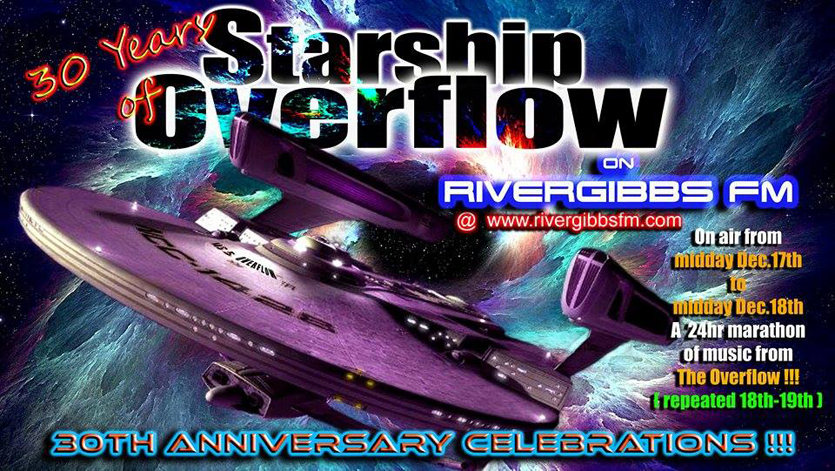 STARSHIP OVERFLOW (U.K.) - Well, seems like it's not just ourselves and Sweet William that are celebrating 30th anniversaries, Captain Garry Lee and crew are having a bit of a bash for theirs as well! Come December 17th, it'll be 30 years to the day that the first broadcast of what was then a pirate radio station called Freedom Overflow took place. And to mark the occasion, the Captain is dragging back together a plethora (yes, Andy, that's 'quite a few') of ex-Overflow DJ's to put on something of a marathon broadcast. I could have done a nice "full of nuts" gag there if the bastards hadn't changed its name to Snickers. But I digress, which you'll know by now is very unlike me. So, wherever you may be in the world (except the countries governed by excessively dictatorial twats, sorry), tune in, turn on and let your...
♪♫ "FREEDOM OVERFLOW" - MAGIC MOMENTS AT TWILIGHT TIME ♫♪
HERE'S WISHING A VERY HAPPY BIRTHDAY TO OUR 2ND FAVOURITE STARSHIP AND ALL WHO FLY IN HER!
---
AURAL INNOVATIONS
(U.S.A.) - Jerry Kranitz tells me it's highly unlikely that he'll reactivate AI after he's completed work on his current project, but it does at least remain online for archive purposes. A rich treasure trove of reviews, articles and info.
THE BLACKOUT RADIOSHOW / TRIBE4MIAN'S WEBLOG (Greece) - See article in this issue...

BLISS / AQUAMARINE (U.K.) - Excellent news from Kim Harten; although the future of her webzine was touch and go last time out, she's taken a short break and is now ready to continue the good fight. Kim's been a trouper for quite some years, so it's a great pleasure to be able to tell you she's currently working on a new edition and is ready to accept material again. However, she won't be reviewing quite as much as in the past. Particular fields of interest are folk, psych and indiepop, but she's fairly open minded. Acceptable formats are CD, CDR, vinyl or cassette (she doesn't do downloads), best to ask about anything else.
CHAIN D.L.K. (U.S.A.) - See article in this issue...

THE DEPROGRAMMING CENTER / LO FINEST / TAPED RUGS PRODUCTIONS (U.S.A.) - Charles Rice Goff III is having something of a go-slow at the moment due to poor health, but the DC radioshow is still a going concern, as is the TRP label. Main interests are seriously leftfield stuff with an emphasis on home production. He's currently working on a new solo album, you can get a good overview of his work on TAPEGERM, so do pop along and treat your ears...
DIGITAL DIZZY (U.K.) - See article in this issue...

EARTH CALLING (U.K.) - See article in this issue...

EBUS MUSIC / RADIO ESCOBAR (Germany) - Carsten Olbrich remains as busy as ever. Aside from his own musical projects (Herr Ebu, Mr. Ebu. Schmertz Der Welten, Always Welcome, Die Lebende Dosis and the mighty Watercoloured Well), writing and concert organisation, he still finds time to do his Radio Escobar show every month on Radio X. He plays a very wide range of underground styles, all the way from subterranean schlager to experimental.
GAJOOB (U.S.A.) - See article in this issue...

KLAPPSTUHL RECORDS (Germany) -
See article in this issue...

LORD LITTER (Germany) - See article in this issue...

NO PIGEONHOLES (U.S.A.) - The mighty Don Campau also continues working hard on spreading the word, as well as archiving it all for future generations. NP is broadcast on various stations and internet, covering a wide range of underground styles, with an emphasis on the 'hometaper' philosophy. There's also a spin-off broadcast that concentrates entirely on the experimental spectrum. Don is still recording himself, great body of work there that is well worth checking out. And do take a look at his 'Living Archive Of Underground Music', a great (and ever growing) online museum to the genre.
STOP PRESS: Just received an NP playlist for 27th November, many thanks to Don for airing "Variations (On A Theme By Peppa Pig)" on an unsuspecting audience, much appreciated. Oink!
THE ROCKER / ZEITGEIST RADIO (U.K.) - Stuart Hamilton is taking a break from his activities for a bit due to some seriously bad family news, I'm sure I'd be speaking for all of us if we wish him all the very best. Hopefully he'll be back with us by the next edition, but in the meantime, his website still has plenty on to keep you occupied.
RODENT TAPES BACKSTAGE (U.K.) - Gypsy (Arzathon) is currently working on a film about homelessness, a venture we wish him extremely well with. For further information, check out the Facebook page, HOMELESSNESS, ON THE FRONTLINE. RTB is still a functioning net label in the meantime and there is a mass of stuff available on the INTERNET ARCHIVE as well. Oh, bit of news too; he's also working on a second collaborative album with Franco Falsini called "The Mourners Bench", so do keep an eye out for that one.
KEV ROWLAND (New Zealand) - Freelance writer and reviewer, predominantly in the wider spheres of the progressive genres, but not exclusively. Has a profile on the PROG ARCHIVES website.
SKYLIGHT (Greece) - Webzine with a very wide scope of view, very underground friendly to boot. Run by Billy Yfantis, also something of an experimental musician himself.
SOUNDS UNREAL (U.K.) - Heavy/spacerock disco/roadshow, based in Devon, run by Alan Bartlett. Currently looking for a good venue for regular gigs (as well as taking other bookings, of course), and always looking for good music to play!