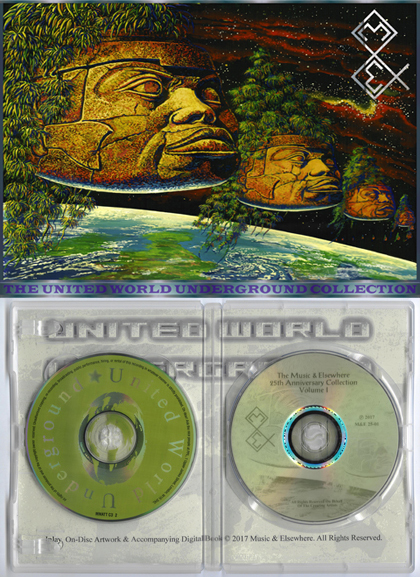 THE UNITED WORLD UNDERGROUND COLLECTION
IS HERE!
Music & Elsewhere are proud to present a celebration of the 25th Anniversary of their first release, way back in 1992. This special collection, presented in a double Amaray clear case, contains some of the best, most original and interesting music (and elsewhere) we ever had the honour to release, featuring 30 bands / artistes from 30 countries, spanning the 5 continents of our United World Underground. The set consists of a data disc (DVD-R) containing 30 albums (mp3 format at an ear-pleasing 320kbps), 50 bonus tracks, 3 books (PDF format) and an accompanying 64 page illustrated booklet (also PDF format); plus a CD of the original UWU compilation from 2001. There's 33 hours of underground sounds in all, plus a whole lot more, and all at the very affordable price of only £15 GBP, with the added bonus launch special of free p&p for everyone!
0
HOW TO ORDER YOUR COPY NOW...
Easiest method for payment is PAYPAL, which you can use whether you have an account with them or not. You'll need our e-mail, of course, which you can find via the Contact button. UK cheques are also okay, payable M. Lancaster (my secret identity, sshhh!), our mailing address is also on the Contact page. Now come on in and take a look around...
I N S I D E :
◄ THE EDITORIAL: WELCOME TO M&E 25th BIRTHDAY PARTY! ►
◄ MISS THE COUNTDOWN? YOU CAN SEE WHAT HAPPENED HERE! ►
◄ THE FACEBOOK RELEASE WEEKEND EVENT PAGE: COME AND JOIN US! ►
◄ NOT ON FACEBOOK? WELL, COME ON AND JOIN US RIGHT HERE INSTEAD! ►
◄ 30 ALBUMS PLUS BONUS MATERIAL: FULL DETAILS OF THE CONTENTS HERE ►
◄ THE BIG 64 PAGE ILLUSTRATED BOOKLET: READ OR DOWNLOAD YOUR COPY HERE ►
◄ THE FREE MUSIC PAGE: ENJOY SOME FREE SOUNDS FROM OUR FINE BANDS & ARTISTES ►