Greetings!
And a very warm welcome to the first edition of the new Magic Net Newszine, on this, the 30th anniversary of the recording that first began our mind-altering adventure, back in the glorious days of magnetic tape, A4 paper and photocopiers. Emulating the spirit of the M&E Newszines of that bygone age (but absent of Letraset, mourning my typewriter and watching our still smouldering abacus in the garden incinerator), it seeks to tell you everything that's going on here at the moment, plus features articles on some of the good folks who help us on that journey, by way of a thank you for their muchly appreciated efforts. The plan is to produce three editions a year on here, approximately four months apart, being published on March 11th (the anniversary of the first demo releases that would ultimately lead to the creation of Music & Elsewhere, not to mention it also being the birthday of this website), July 2nd (anniversary of the aforementioned first recording) and October 25th (W20 Sessions Day - the official birthday of Magic Moments At Twilight Time). Hopefully, come the next issue, I'll be able to expand it a little to spread the news about whatever fine new music (or elsewhere) I may discover in the coming months, plus present a digest of what else is going on out there in the wider underground and related beyond. There are seriously interesting times ahead for us from hereon in, what with already being in MMATT's 30th anniversary year, plus having the 25th anniversary of Music & Elsewhere coming up in April next year, not long after The Magic Net's 5th birthday. So, lots to tell you about once you step inside these hallowed pages. Well, screens. I thought I'd best clarify that so you won't be trying to turn to the next monitor, end up pulling all your cables out et al. You wouldn't thank me for that, would you? But I digress, which regular readers will know is quite unlike me. That's it for the front page then, just click on the little arrow and find yourself transported to a land where there will be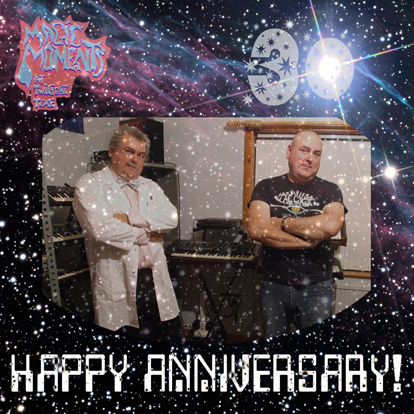 The MMATT's of two universes united across the dimensions,
Dr. Albert M. Tron PsD of that Earth and myself of this one...
---
words for you to read, pictures for you to look at and sounds for you to listen to. You know, like stuff you'd expect to find on a website...
All good things,
Mick Magic
(Saturday 2nd July 2016)